EHDEN
---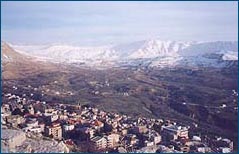 This village, which goes back to the Middle Ages, is known for its old souk and picturesque main square, or "Midan", where the entire village gathers on long summer evenings. The village Church preserves the mummified body of Yousef Karam, national hero of the 19th Century. A little further on, convent of Saint Sarkis has several small chapels, the oldest dating to the 13th and 14th Centuries. There is also the chapel of Saint Mamas built in 794. The village is dominated by Saydet el Hosn (Our Lady of the Citadel), which was probably built upon the remains of an ancient building. From its terrace is a magnificent view of the Cedar Grove and the valley extending all the way to Tripoli and the sea.
Horsh Ehden, one of the most beautiful nature reserves in Lebanon, protects rare of trees, plants, flowers and animals.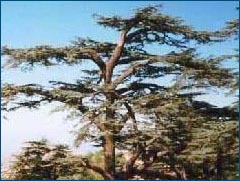 The Cedars village is now a ski resort that offers the most complete combination of slopes, valleys and exposures. Furthermore, it has chalets, hotels, ski lifts and varied night life. Tourist will surely enjoy their stay and seize the opportunity to visit Qadisha Grotto which is nearby, known for its stalactite and stalagmite formations. Moreover, they can explore Bsharre, the birthplace and resting place of Lebanon's celebrated philosopher-artist-poet Gebran Khalil Gebran.
About a kilometer further on is the famous cedar grove where the road is lined with the inevitable souvenir stands and small restaurants. The same road continues to the ski area at 2,066 meters and goes over the mountain and down into the Beqaa valley.
The Cedars is a resort for all seasons. In summer the high elevation make it wonderful escape from the humid coast while in winter skiing is the favorite activity.